The Print Setup dialog box is where you specify how fractals should appear on the printed page.
If you have trouble printing your fractal images from Fractal eXtreme you can always load your images into a paint program and print them from there. The .fx files saved by Fractal eXtreme are standard BMP files, just with a different extension and some additional FX specific information. For programs that have trouble with these files you can use File->Save Bitmap Only to save a vanilla BMP file that any paint program should be able to load. Additionally you can use the Edit->Copy command to copy images to the clipboard to easily transfer them to other programs, for printing or other purposes.
To open the Print Setup dialog box: On the File menu, click Print Setup.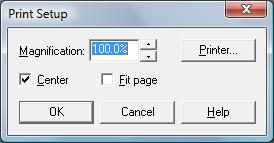 Going from top to bottom the information displayed is:
The Magnification area provides a space for you to type the percentage by which to scale the fractal when printed. You can also click the scroll arrows to select a new setting.
The Printer button should be clicked to display the printer's Print Setup dialog box, from which you can change the printer to use and the paper and orientation settings.
The Center toggle specifies whether the fractal appears centered on or in the upper-left corner of the printed page.
The Fit page toggle specifies whether the fractal will be scaled to fill as much of the printed page, without changing its aspect. Note: If you want to print a wide fractal in landscape mode, you must first change the orientation of the paper in the printer's Print Setup dialog box; click the Printer button in the Print Setup dialog box to open this dialog box. The Fit page check box doesn't automatically rotate a fractal to make the best use of the paper size.