The Zoom Movie dialog box allows you to specify any arbitrary zoom level to start a zoom movie at. Normally all zoom movies start at zero zooms, but now they can start at any zoom level - as long as it is smaller than the destination zoom level.
This allows you to create zoom movies that start so far out that the Mandelbrot set isn't even visible - with a start zoom of negative ten. Or you can start at a zoom level of 1000 and make a zoom movie that goes into zoom level 1100.
To open the Zoom Movie dialog box: On the Render menu, click Make Zoom Movie. The advanced flag in preferences must be enabled for this dialog box to appear - otherwise just a file dialog will appear to select your destination location..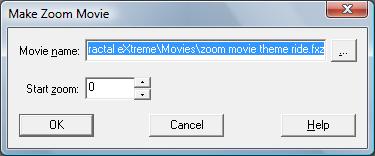 Going from top to bottom the information displayed is:
The movie name area is where you specify the name for the zoom movie. You can specify the file name by typing it in or by using the browse button.
The start zoom area is where you specify the starting zoom level. It must be smaller than the current zoom level.