Unicycling Nova Scotia
<![if !vml]>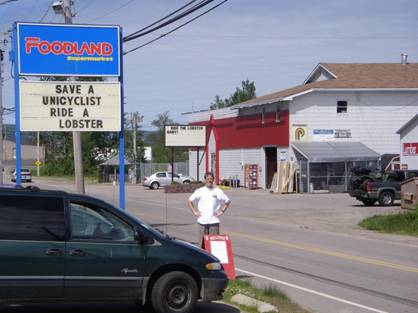 <![endif]>Ride the Lobster – named for the shape of the province of Nova Scotia where it was held – was run from June 16th to 20th 2008. It was the first ever multi-day unicycling race. Most of the race was a relay with one rider carrying the baton (a GPS unit) and the rest of the three rider team driving ahead in a van. Monday, Tuesday, Thursday and Friday were spent covering approximately 200 km a day, and Wednesday was a 21 km time trial and 4.8 km 'criterium'.
By the way – you can hover the mouse over photos to see captions, and click on the images to see larger versions.
Since I'd previously ridden the Seattle to Portland bike classic on my unicycle this race seemed like an obvious thing to do, to see Nova Scotia, ride a wonderful race, and hang out with old unicycling friends and the best riders in the world.
I put together a team of three local riders. Initially this was Tom Blackwood from Sammamish, Joe Myers from Bellingham, Joe's wife Lana as the support person, and me. Unfortunately Tom had to drop out because of a work conflict so he was replaced at the last minute by Jeff Sloan from Bellevue.
<![if !vml]>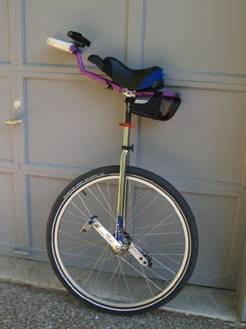 <![endif]>Joe Myers rides a unicycle with a 36" wheel, which used to be the gold standard for long-distance riding. However in recent years it has become possible to buy geared unicycles. Building gears for a unicycle is tricky because you need to be able to pedal forwards and backwards, and there can be very little looseness in the drive-train when you switch from forwards to backwards. However these challenges have been overcome and it is possible to buy a hub with internal gearing that can switch from 1:1 to 1.5:1 mode with a click of the rider's heel. This means that long-distance riders can choose between a 36" wheel with no gearing, a 29" wheel with a geared hub (in high gear this is equivalent to a 43.5" wheel), or a 36" wheel with a geared hub (in high gear this is equivalent to a 54" wheel). Some riders use ungeared 29" wheels, but it is very difficult to maintain a competitive speed because even a cadence (pedal revolutions per minute) of over 100 will only propel you at 14 km/h.
Jeff and I both ride geared 29" unicycles. That lets us cruise for long distances at 20-25 km/h while giving us the option of gearing down for the rare very-steep hills. A 29" wheel is also nice because it is easy to transport and easy to get on. The true speed demons on some of the other teams opted for geared 36" unicycles, but I'm not sure I'm brave enough to cruise at the speeds that would justify such a unicycle – some of those riders were reporting peak speeds of around 46 km/h!
Setback one
I flew to Nova Scotia Friday June 13th, 2008. On arrival the first thing I noticed was that my seat post had poked a hole in the side of my bike carrier bag. This was particularly annoying because it also meant that my seat-post clamp was missing. We went to the hotel and joined a small crowd of unicyclists at the bar – with the race three days away we were still allowed to drink. After introductions I asked if anybody had a spare seat-post clamp. Tue, a Danish unicyclist, said "what color do you want – red or blue." He happily lent me the spare part for the week. This sort of helpfulness was repeated again and again throughout the race. Although we were competitors this never stopped people from going out of their way to help people on other teams, with a shoulder to mount, a tool, or even a couple of rebuilt unicycles.
Setback two
The next day Jeff Sloan and I loaded up our rental van with our unicycles and two Korean racers and drove to Annapolis Royal on the Bay of Fundy. On arrival the first thing we did was assemble our unicycles. I'd been a bit nervous when taking my cranks off on Thursday, and my nervousness was justified. I'd messed up while removing the cranks and had managed to damage the gear shifting spindle inside the hub. The hub would barely work in 1:1 mode and when put in 1.5:1 mode would just freewheel. My pride-and-joy, assembled just for this race, was busted. We had a spare geared 29" unicycle available, which is all that stopped me from having a complete mental breakdown, but it was not on-the-fly shiftable, it had the wrong type of tire, and it was not my unicycle, with the handlebars, cranks, pedals, and seat that I had been training on. My only hope was that Florian Schlumpf, the maker of the hub, visiting Nova Scotia for the race, might be able to fix or replace my hub. I waited anxiously for his arrival and the next morning, when I saw him walking through our hotel parking lot, it was all I could do to restrain myself from running over and begging incoherently for a replacement hub. He gave me a small lecture about not reading the manual for the hub (I had) and not using appropriate tools (oops) and then he took my unicycle and promised to take a look at it. It was another six hours before I saw my unicycle again, and when I did it was working! When Florian showed up he lectured me about using the correct tools (yes sir, whatever you say sir), I gave him a huge hug, and then I had my delayed nervous breakdown. It had been a stressful thirty hours, but I was back in my saddle.
Saturday night (prior to finding Florian and getting my hub fixed) we were roundly welcomed to Annapolis Royal. All of the riders present were inducted into the Order of Good Cheer, an ancient (oldest in North America?) social club established by the early European explorers. There were some speeches, but mostly they fed us well and welcomed us to Nova Scotia.
Setback three
<![if !vml]>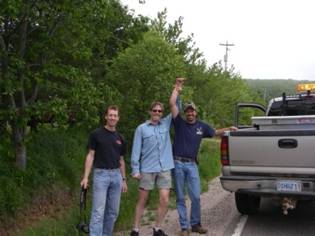 <![endif]><![if !vml]>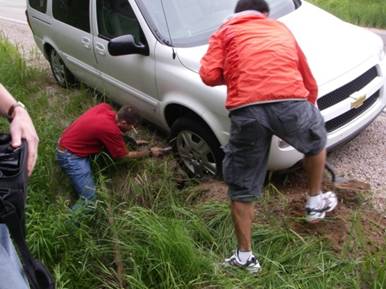 <![endif]>Sunday morning we needed to drive to the start of the race in Yarmouth. We were at the end-point of the first day so we decided to drive the route backwards so that we would know what we were getting in to. This worked fine, as we read through the directions backwards and followed the Dan Henry's (arrows for bike race directions) painted on the road. But, when we pulled over to discuss an ambiguous corner we found our right-front wheel dropped into an eroded bit of gravel above a culvert. The wheel had fallen through enough that it was holding none of the van's weight, with the bumper and undercarriage resting on gravel. We tried to dig ourselves out but the hole was several feet deep. We considered just gunning the engine, but if the car slid a bit to the right then we would have tipped into the ditch. We had just made the decision to call for a tow-truck when a friendly local drove by, stopped, pulled out a tow rope, and hauled us out in no time. Thank you Brad!
Sunday night in Yarmouth was a group photo, more speeches, a delicious but oddly low-carb dinner, last minute preparations for the start of the race, and then into bed as early as possible, but far too late.
Race day: Monday
<![if !vml]>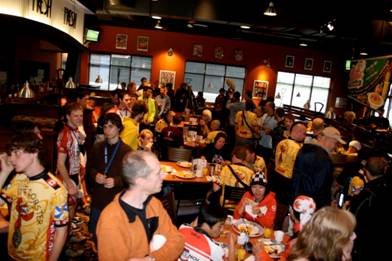 <![endif]>Monday morning we were up bright and early for a 6:30 breakfast at Pizza Hut – a typical early start for the week. Pizza Hut was woefully unprepared for 150 people arriving simultaneously. Everybody was very patient but the food was mediocre and very slow to arrive. Half the riders were still lined up to get more food when it was time to do the opening parade around Yarmouth.
At 8:48 AM the Ride the Lobster race started. I took the first segment (hey, I put the team together!), starting off with Irene Genelin, a world champion unicyclist who I know from when she lived in Seattle. I rode 15 km to where my team was waiting which ended up being the longest segment that anyone on our team rode, as we learned that shorter segments let us maintain a faster pace. Too short a segment is too frantic, with no time for rest, thought, or eating, but too long a segment would force the rider to maintain a long-distance speed instead of a sprint speed. The actual segment length varied – the only race rule was that there could be no transitions during the first 10 km each day – but we generally settled on about 8 km segments at the start of the day, with the length gradually decreasing as the day wore on, with shorter segments if we were tired, the route was particularly hilly, or if we were working hard to catch another team.
The first day the route went from Yarmouth through Annapolis Royal, across a 240 m ridge to the Bay of Fundy, northeast for 20 km, then back across the ridge and back to Annapolis Royal to end at Fort Anne. The route started out quite flat, but gradually got hillier. The hills were rarely steep, but they did remind me that most of my training was on quite flat terrain. I started feeling a bit nauseous in the afternoon – probably depleted electrolytes from too much sweating – but I kept on eating and drinking as much food, Gatorade, Clif bars, and Power Gu as I could manage.
<![if !vml]>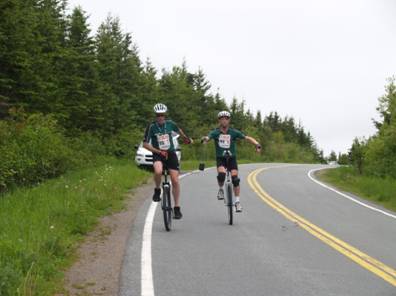 <![endif]>Jeff had a brake on his unicycle so he was happy to do the larger downhills. Joe has a reputation for being an indomitable hill-climber so I 'strongly encouraged' him to do the larger uphills. I tried to sprint as fast as I could on the flats (best sustained speed: 22.5 km/h on an 8.5 km segment at the end of the day) to make up for the fact that I was trying to avoid the hills. I hadn't trained as much as I wanted to (I was sick several times in the last month) and during one of my qualifying rides I had worn out my legs on a hill climb such that they took several days to recover. My legs had to last the week so I was cautious about hills the first day, perhaps being unfair to Joe.
Monday's ride included three gravel sections. The gravel was well packed so not too hard to ride, but definitely bumpier and trickier than pavement. Joe, with his road-smoothing 36" wheel, took two of the gravel segments. I took the remaining one and ended up having three gravel induced falls. None of them were bad, my knee pads and gloves protected me from any damage, and they only annoyed me because of the lost time and the damage to my ego.
<![if !vml]>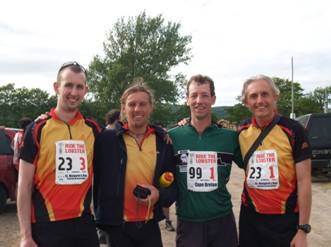 <![endif]>Our strategy seemed to work quite well. My stretch goal was to finish as many of the days as possible in less than ten hours. We were on track to do this all day but we always assumed that the hills or tiredness would cause us to miss this target in the end. But, on day one we managed 196 km in a time of 9:48 (average speed of 20.0 km/h). Some riders had got in 90 minutes before us, and some were still riding more than two hours after we finished.
After some finish line celebration, and congratulating other riders (including many riders I'd met while playing unicycle hockey in England) we set out on a quest for food. We wanted to buy road food for tomorrow as well as breakfast, in case Tuesday's breakfast was as weak as Monday's. Then we searched Annapolis Royal (population: 444) for an Italian restaurant (none), Chinese restaurant (closed), or anything else that would give us a healthy dose of carbohydrates for the next day. At 9:00 we ended up at a pub. Many other riders had ended up there and <![if !vml]>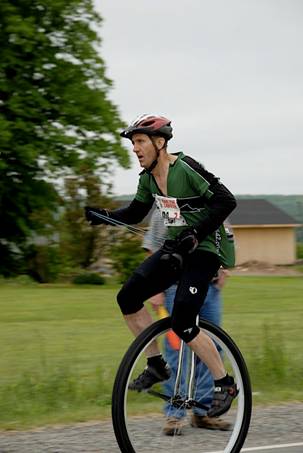 <![endif]>they were frantically busy, but the waitress sprinted between the tables and the kitchen, served everybody in record time, the food was excellent, and we finally got our bodies refueled.
One of the highlights of the day was the school children lining the route, cheering us on. In the most memorable section there were fifty or sixty kids lined up behind the sidewalk. Although Ride the Lobster is a race, it's also important to reach out to Nova Scotia, since they have supported and sponsored us so much. Because of that, and because it's fun, I gleefully rode up onto the sidewalk, slowed down a bit, and high-fived as many of the kids as possible. The rider behind me did the same, and I hope the kids were smiling as much as we were as we rode away.
While riding along the edge of the Bay of Fundy I ended up riding with Emily, the 13-year old member of Two Young To Drive and we talked for a while. She mentioned that she wasn't very good at hill climbing because she couldn't put long cranks on her unicycle because if she did she was too short to reach the pedals! She really was quite tiny, and very young, and I briefly felt bad as I took off ahead of her on my fancier and more efficient unicycle, with nice long cranks for easier riding. Once again old age and treachery beat youth and enthusiasm, but the youth team put up an amazingly good fight (they were 22nd overall out of 35 teams).
Race day: Tuesday
Tuesday's breakfast was perfect – we never actually needed the breakfast food we'd bought. We rode through some beautiful countryside, through New Germany (the whole school waiting for us), Lunenburg (home of the Bluenose II), and along some impossibly picturesque lanes along the sides of postcard-perfect coves. However Tuesday's ride was most memorable for two things:
For several hours in the middle of the day it rained torrentially. With rain jacket or without, it really didn't matter, at the end of your segment you would be soaked to the skin, and changing into dry clothes was quite pointless. We cranked up the heat in the van and hoped that the rain wouldn't last, and luckily it didn't.
<![if !vml]>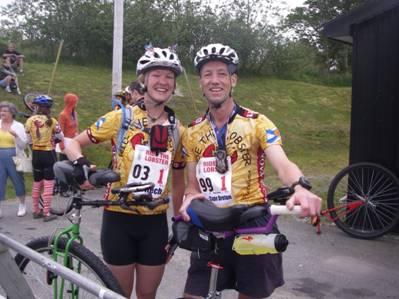 <![endif]>With twenty to thirty km to go we found that we were just seven minutes behind Team Venus, the all women's team that included Irene. They had beaten us by fifteen minutes the first day but it seemed like we were gaining on them so we decided to make catching them our goal. We started pushing ourselves harder, honing our transitions, doing shorter segments so that we could sprint faster, and at every transition we timed the gap to see how far ahead they were. They knew that we were gaining on them and we often used the same transition points so that we could engage in some good natured trash-talking. We came within seconds of them at one point but they switched to a faster rider and we could no longer gain ground, so we ended up crossing the finish line just sixteen seconds behind them. There were hugs all around as we discussed the epic battle of old-men versus young-women and we promised to continue the fight on later days.
Ride the Lobster was a constant series of little contests like this. While there were 35 teams in the race, it never felt like we were racing against the German Speeders (fast) or Team Hurt (slow), because we would only see them at the start line and outside of the race. Instead, the contests that mattered were against whoever was in sight: the teenage Two Young Two Drive team on Monday, Team Venus on Tuesday, etc.
Tuesday was the longest day of the ride at 207 km. It was also the slowest, for every team, presumably because of tiredness, hills, and rain. Our average speed dropped to 19.0 km/h, our slowest, and this was the only day that took us longer than ten hours.
Time-trial and criterium day, Wednesday
Wednesday was a much more leisurely day – practically a rest day. We got to sleep in, ride a 21 km time-trial, and then a 4.8 km 'criterium', and that was it.
For the time trial they started people every thirty seconds with a member of the slowest team going first, then next slowest, and so on. When one rider from each time had gone then they went from slowest to fastest again, and then a third time. This meant that within each group of thirty five riders there was guaranteed to be lots of passing. I'd been told that the course was mostly flat, but I was misled. It started out flat but after a few minutes we got to the first and steepest hill. As I approached I could see a half-dozen people ahead of me trying to ride up it. One by one they struggled to maintain speed, then hopped off and walked. Since it was clear that this was a daunting hill I knew it was time to bust-out low gear. With a click of my right heel I shifted down to 1:1 mode. With my 29" wheel and enormous 165 mm cranks I was now ready for climbing up the side of the building and it was immense fun to ride past the non-geared unicyclists. It didn't seem completely fair, but the rules were clear that gears were legal. I passed four riders on the hill, and I passed two more at the top while they were remounting. The rest of the race was almost constantly hilly, with one other hill that was steep enough to justify low gear.
I had now passed several of the slower riders, and only one faster rider had managed to catch up to me. I tried to maintain that position – and pass a few more slower riders – for the rest of the race. However I was ultimately passed by several faster riders. I was disappointed when Irene caught up to me. I fought hard to keep her at bay but she is a very skilled and fast rider and I only had a small head start. Another memorable pass was when Arne Tilgen from the German Speeders rocketed by. I constantly watch my rear-view mirror for cars and other riders and it is rare for someone to sneak up on me. This guy was going so fast that I never saw him behind me and I swear I could feel his slipstream as he rocketed past.
My team mates and I started at about 17 minute intervals, raced for over an hour, and yet from fastest to slowest our times were within fifty seconds of each other, which made us the most consistent team in the race.
<![if !vml]>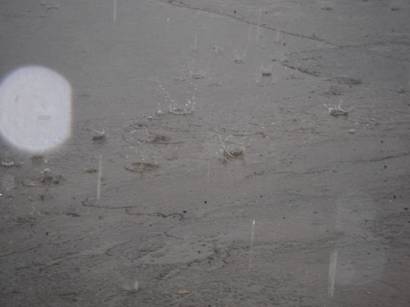 <![endif]>The time trial was notable for the severe weather we encountered. Not long after the race started it began raining, at times torrentially, and then we got lightning added to the mix. This was mildly annoying during the race, but became frustrating at the end. Our support vehicle was supposed to meet us at the end with dry clothes and a dry place to sit. Due to problems with the directions it was forty five minutes after I finished before our vehicle arrived – I'm glad I was able to borrow a dry t-shirt and a van door to hide under or it could have become serious.
We now had many hours before the next event. We had time to stop for coffee, eat a leisurely dinner, and explore the town of Truro. Unfortunately our timing was off for seeing the tidal bore, unless we wanted to stay up until 12:30 am.
At 7:00 we had the criterium. This was a 4.8 km six lap race around a block in downtown Truro. This was, hands-down, the most exciting part of Ride the Lobster. Thirty five riders at a time (slowest group from the time trial, then middle, then fastest) raced around the block with hundreds of spectators lining the streets. Epic battles for position ensued, with each round including several painful to watch high-speed "UPDs" (UnPlanned Dismounts), and tales of how far so-and-so slid after wiping out. Amazingly, despite drafting worthy of the Tour de France there were no chain reaction wipeouts the entire week.
Race day: Thursday
Thursday we were feeling strong. With Monday and Tuesday as our final day of training and Wednesday as a recovery day we had our fastest day of the week. My GPS wristwatch had drowned in Tuesday's rains but I'm certain I also did my fastest segments. We fought hard to try to beat Team Venus, but in the end they had a slow day and fell far enough behind that it took the joy out of that contest.
Race day: Friday
Our goals for Friday were to stop Team Venus from catching us in the overall rankings, and perhaps try to gain about seven minutes on American Mojo, to move us up from 18th place to 17th place.
Setback four
<![if !vml]>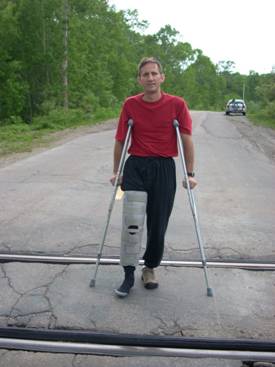 <![endif]>Unfortunately, Friday turned bad. Joe had not been feeling well – he'd pulled a leg muscle on Wednesday's criterium. He'd tried switching to shorter cranks for less movement, we'd tried giving him slightly shorter segments, and he was carrying on like a real trouper, but clearly he was not riding as well as usual. At the 60 km mark Joe had just started a new segment. We were in the van right behind him, looking for a place to pass. He went over some railway tracks with particularly messed-up pavement around it, and lost control. He unclipped from his pedals and landed on his feet, but landed badly. He rolled across the road and didn't get up. We pulled over, as did two other team vans. Joe was clearly in a lot of pain – it was immediately obvious that he would not be riding again that day. After checking for dangerous injuries I grabbed the GPS unit and gave it to Jeff who rode off. We then helped Joe to his feet, carried him to the van, and got the Saint John's Ambulance guy (helpfully notified by another team) to check him out. The consensus was that his right leg was twisted, but not broken. The consensus was wrong. Joe rode in the van for a little bit but the pain was getting worse and he needed medical attention. Luckily Lana, his wife and our support person, was driving a separate car so we carried Joe to the car and off they went.
Jeff and I had 126 km left to ride. We immediately gave up on catching American Mojo, but we weren't planning to let teams catch up to us without a fight. Riding as a two-man team is certainly harder, but several other teams had done it (one for the entire week), and we were feeling strong.
We immediately fell into a routine. I'd ride for about seven km (typically about twenty minutes) and Jeff would be waiting with the van. I'd pass him the GPS on the fly and we'd exchange a few words – "how far do you want?", "are you feeling okay?" as he rode off. Then it would be time to eat – a banana, part of a Clif bar, a fig newton, a power Gu, and some water – hop in the van, drive ahead seven km, wait a few minutes for Jeff, and repeat the process. The weirdest part about it was that for the next several hours the only communication we had was the few seconds when we were passing the baton. We were able to talk to nearby riders and to teams that were waiting for transitions, but Jeff and I didn't have a chance to discuss what had happened and what we were doing until we'd ridden another 93 km. At that point we got in our van together and did a mandated drive over 24 <![if !vml]>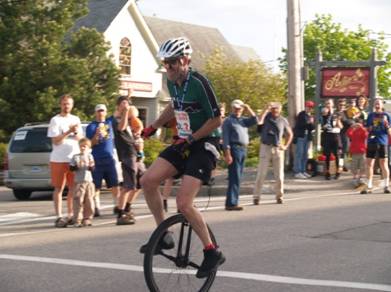 <![endif]>km of dangerous road before resuming for the last 33 km.
The final section of the race started with riding over a 'mountain' that would barely count as a hill on the west coast. We gained 240 m over 7 km and then went down the other side, which works out to a quite reasonable 3.5% grade, best ridden in high gear. Then we had 19 km of pancake flat riding which we covered quite nicely. It wasn't until we arrived in Baddeck and Jeff had ridden triumphantly across the finish line that we found out that Joe's leg was broken and he would require surgery. Ouch.
We ate another enormous meal that night, and with the contest behind us we felt free to celebrate with a few alcoholic beverages. There was much telling of tales, sharing of strategies, and raving about what a great event it had been. Saturday was the awards ceremony (we won "oldest team" and Joe got "worst injury"), then some sightseeing, more partying, and then on Sunday the drive back to Halifax and flight home.
Epilogue
Joe has had his surgery and is in good spirits and less pain. He can't put any weight on his leg for three months and it sounds like his riding future is uncertain. So much for my usual claim that unicycling is a safe sport. Our team ended up 18th out of 35, which seemed like a reasonable placement. The race was an amazing experience and I would do it again in a heartbeat.
I unicycled to work shortly after returning home and posted my fastest time ever, averaging 23.5 km/h over the 12.5 kms. This ride felt so good that I've decided to put all my training to use and give the Seattle to Portland ride, held three weeks later, a second try.
Nova Scotia was incredibly welcoming and this event lived up to my hopes for it. I got to meet many old friends and famous unicyclists, participate in an amazing physical challenge, and see a province that I had never previously visited. I could never have done it without the support of my amazing wife and kids, and I'm not just saying that because they told me to.
<![if !vml]>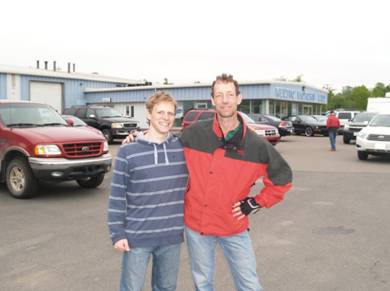 <![endif]>
<![if !vml]>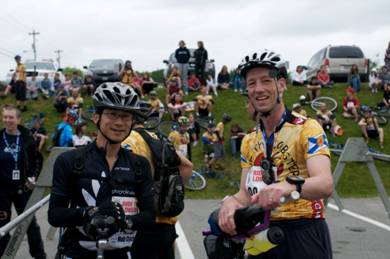 <![endif]>
Statistics
Here are some partial results showing how our times and speeds compared to the best and worst teams each day.
| | | | | | | | | |
| --- | --- | --- | --- | --- | --- | --- | --- | --- |
| | Total time | Total km/h | Stage 1 time | Stage 1 km/h | Stage 2 time | Stage 2 km/h | Sum of time-trial times | Time-trial km/h |
| Fastest time | 36:17:47 | 23.9 | 8:08:00 | 24.1 | 9:12:00 | 22.5 | 2:32:27 | 24.8 |
| Puget Sounders | 43:03:24 | 20.1 | 9:48:00 | 20.0 | 10:53:35 | 19.0 | 3:05:45 | 20.3 |
| Slowest time | 59:33:55 | 14.6 | 12:15:00 | 16.0 | 12:57:00 | 16.0 | 4:14:46 | 14.8 |
| | | | | | | |
| --- | --- | --- | --- | --- | --- | --- |
| | Sums of criterium times | Criterium km/h | Stage 4 time | Stage 4 km/h | Stage 5 time | Stage 5 km/h |
| Fastest time | 0:28:48 | 30.0 | 8:08:38 | 24.7 | 7:34:04 | 24.6 |
| Puget Sounders | 0:33:28 | 25.8 | 9:37:48 | 20.9 | 9:04:48 | 20.5 |
| Slowest time | 0:39:00 | 22.2 | 11:14:50 | 17.9 | 13:38:50 | 13.6 |